Days Inn By Wyndham Washington DC/Connecticut Avenue
At the Days Inn By Wyndham Washington DC/Connecticut Avenue, guests can enjoy stylish modern furnishings and the convenience of staying closer to popular attractions. Our building is located just three miles away from the heart of downtown D.C., just a block away from the Van Ness/UDC Red Line Metro Station.
Our friendly staff is available for your needs 24-hours a day. With on-site parking and an AVIS/Budget Rental Car office adjacent to the lobby, we make transportation a breeze. The METRO can be used just one block away.
The Nation's Capital has long offered visitors a patriotic experience and we make it easier to see it all. Many area attractions, local shopping, and dining options are just a couple of miles, allowing you to enjoy more of Washington, D.C.
You can stay with us to wine and dine, as well. In addition to a comfortable guest room, we also feature one of the neighborhood's favorite restaurant choices adjacent to the hotel. Flavor Garden features great Southern Style cuisine conveniently located on the main floor. Flavor Garden's also offers a premium selection of beverages and cocktails to be enjoyed at the bar.
You'll find us to offer the best hotel deals, whether you're here visiting on business, on a family trip, or as a solo adventure to Washington, D.C. We offer an on-site boardroom, which comfortably fits up to 12 people, and a guest use business center. Our spacious guest rooms include complimentary in-room deluxe coffee service, HDTV with 70 channels, including HBO® and ESPN®, and free high-speed Wi-Fi Internet connections.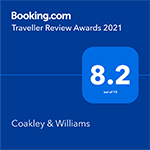 Time to celebrate! Booking.com has awarded our management company, Coakley & Williams, the Traveller Review Award for 2021! Throughout a very difficult 2020 for our guests, staff, and area, we are honored to be recognized and delighted that we have earned your trust. We look forward to seeing you again soon!